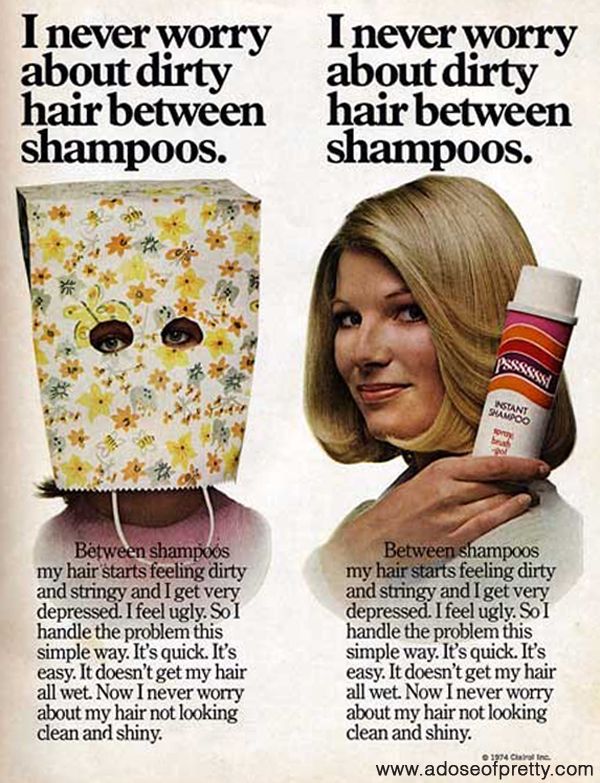 I'm prolly not the first to admit this. I'm not a fan of washing my hair daily. And before you judge me for being a slob in this heat, I have reasons to believe that hair should be washed every other day; anything more will strip it of its natural oils. But of course, the weather and humidity here is a very real problem and if you're dealing with an oily scalp, there is texture and smell (you know, that icky hair pong) you must consider.
Generally, my hair gets visibly oily at the end of day three and that calls for a good shampoo. In between, I am obsessed with using dry shampoos to get by. For the uninitiated, dry shampoo is shampoo in a powder form. It cuts grease, adds volume and leaves hair fresh and clean in between washing.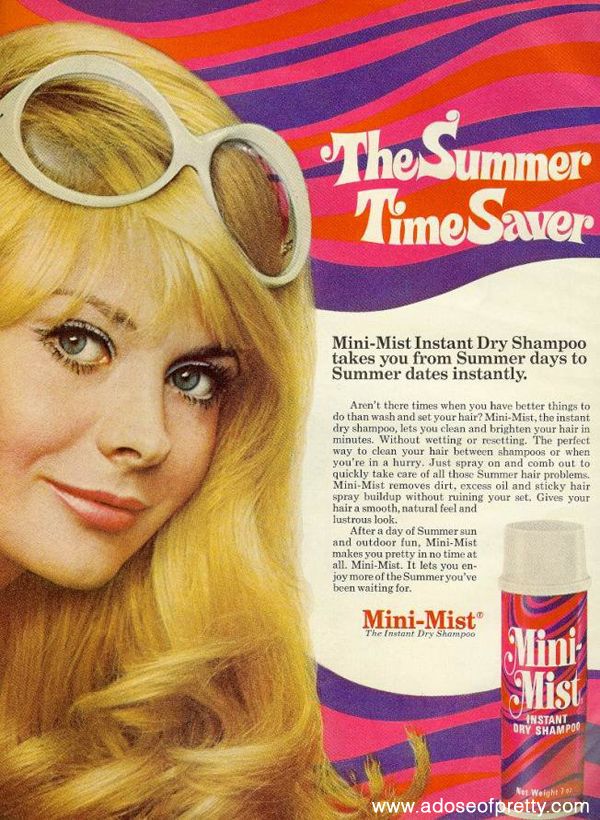 Though the concept of dry shampoos has been around since the 18th century (or earlier?; see ads above), I've only started actively using dry shampoos from two years ago and I can't emphasise how it has changed my life. (Yes, I used to be one of those people patting talcum powder all over my head and going out with grey patches on my hair just so I can skip a shampoo *gawd*)
As dry shampoos get increasingly popular, you can easily find one that suits your hair, smells good, and isn't too expensive. Here's my take on the recent five that I've tried. And a word of caution, as with all aerosol products, always use in a well-ventilated space.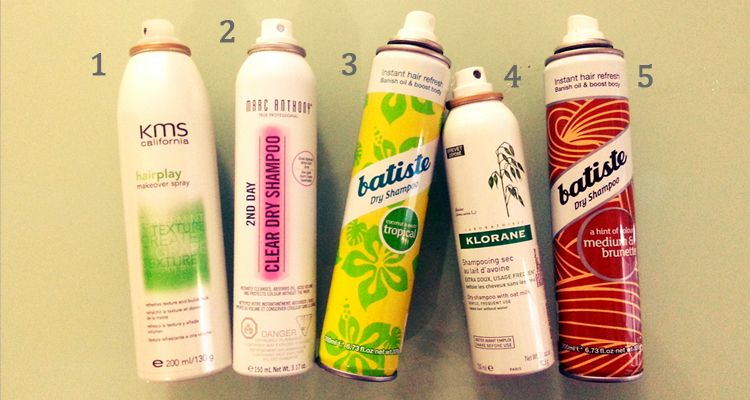 1) KMS California Hairplay Makeover Spray*, $43 (200ml), dial 6835 1551 for stockists
While this comes with a heftier price tag, I like how it adds volume to my hair and leaves it soft and smooth. What I didn't like so much was the visible build-up, which I've since realised can be avoided if you spray from about six inches away.
2) Marc Anthony 2nd Day Clear Dry Shampoo*, $24.90 (150ml), Watsons
A clear, light-weight formula that imparts a fresh look and feel to hair. I like that it doesn't leave any white residue behind but those with greasier scalp conditions might need to reapply after half a day.
3) Batiste Dry Shampoo in Tropical, $12.90 (200ml), Watsons
With Batiste, I've realised that control is key. Press down too hard on the nozzle and you risk asphyxiation and white patches on the hair. That said, this is one of the cheapest options out there and it does its work; except the coconut fragrance can be a tad overpowering.
4) Klorane Dry Shampoo With Oat Milk, $14.90 (150ml), Watsons
One of my faves, I like this for its subtle fragrance and reasonable price tag. It absorbs oil really well and being loaded with oat milk also means it's gentle on the scalp and doesn't irritate.
5) Batiste Dry Shampoo in Medium & Brunette, $12.90 (200ml), Watsons
Definitely my favourite from the brand. While this, like the other Batiste variants, requires a light hand, it dispenses a brown powder instead, and doubles as an emergency grey hair cover-up. Easy breezy. It also has a lighter scent that I like.
Do you love dry shampoos too? What brands have you tried?
Images via: Products (Press Information), Vintage Ads from top (geddit2getha.files.wordpress.com, amazon.com, makeupfacts.files.wordpress.com)